The Most Fun Water Slide Rentals McAllen, Tx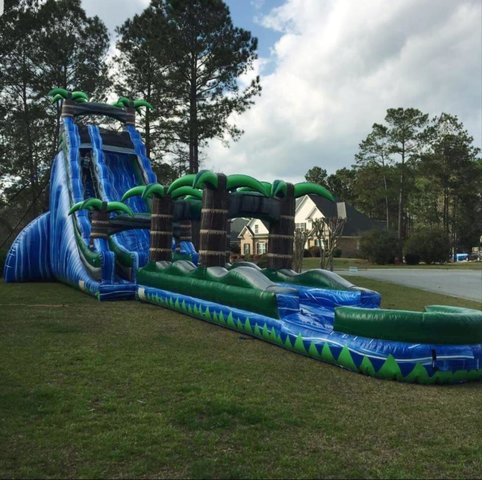 When it comes to wet and wild fun, we deliver!
A water slide rental is an excellent way to cool down in what can often be a pretty hot Texan sun in summer. At RGV Party Rental, we have the largest selection of various types of water slides. Our Water slide rentals McAllen, TX, are available in various sizes ranging from ones that are 14 feet high to 26 feet high. In our experience and those of our clients, these are the best ways to have fun when it's hot. Nothing beats the joy of looking down at a body of water that you're soon about to swim in.

We offer a varied number of water slide rentals near me for kids aged three and above. We know that younger kids can be slightly timider, and those taller slides are going to be scary for them, which is why we have water slides for all age groups. If you are not sure which size is best suited for your kids, call us, and we'll help you choose the right water slide type.

Furthermore, whether you are having a backyard party, a school event, or any other type of party, you can be assured that RGV Party Rental has something for you. Want something big for all the tall kids? You'll find them all here.
Whether it is water slides, bounce houses, dry slides, or obstacle courses, our party rental service has them all.

Select Your Date
  Wet and Dry Slides
Wet & Dry Inflatable Slide Rentals
Giant inflatable water slide rentals are the Texan's favorite summer attraction, and RGV Party Rental has a great selection to fit any budget and location. All of our slides have the latest safety features built right in, like the "No Jump" netting at the top of the slide that prevents Kid Krazy actions when entering the slide area. Choose from a variety sizes and themes perfect for large community festivals to backyard birthday parties. All our inflatable slide rentals are manufactured with "Lead-Free" vinyl and are cleaned and sanitized after every rental for your child's and guest's safety. Browse the selections below and click on the title or image for additional information and to make a reservation.
14' Multi - Colored Water Slide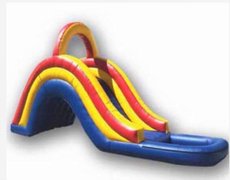 15' Shark Waterslide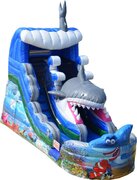 15' Tropical Waterslide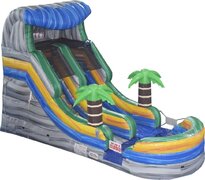 15' Unicorn Waterslide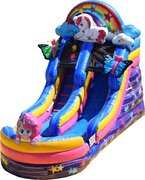 15' Water Slide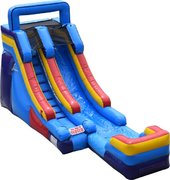 16' Christmas Dry Slide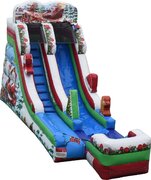 16' Double Lane Baja Waterslide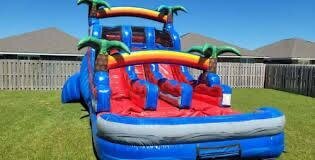 16' Double Lane Gator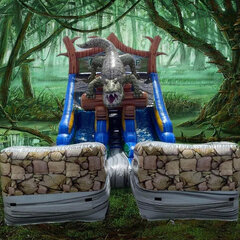 16' Double Lane Waterslide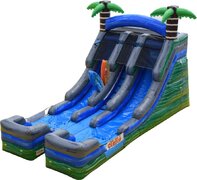 16' Wave Waterslide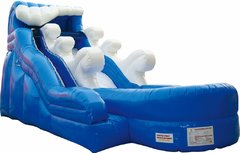 18' Hybrid Triple Lane Waterslide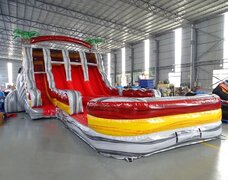 18' SURF ISLAND WATER SLIDE & SLIP-N-SLIDE COMBO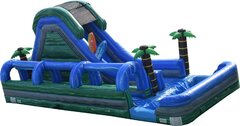 20' Blue Crush Waterslide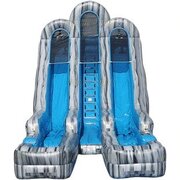 20' Stars & Stripes Waterslide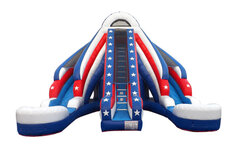 20' Tidal Wave Slide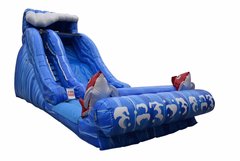 21' Marlin Waterslide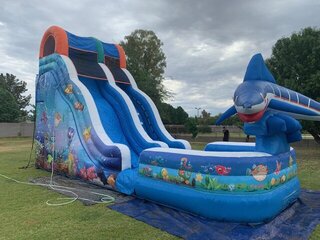 21' wild rapids water slide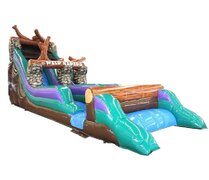 22' Alpine Tubing Slide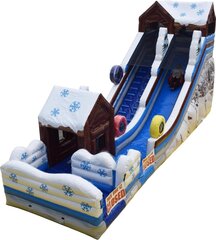 22' Mermaid Water Slide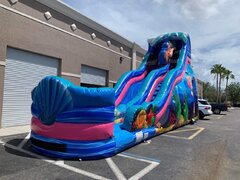 22' South Beach Waterslide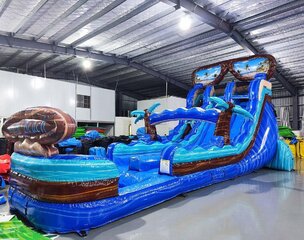 22' Twin Falls Waterslide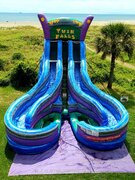 22' Unicorn Waterslide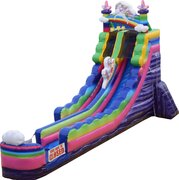 24' American Waterslide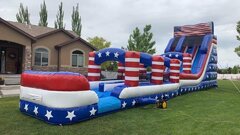 24' Double Lane Big Kahuna Wet/Dry Waterslide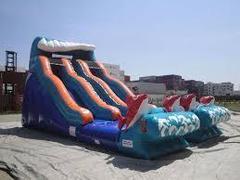 24' Double Lane Water Slide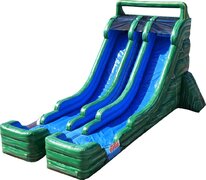 24' Shark Waterslide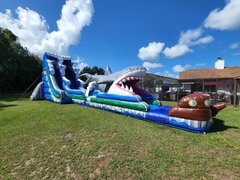 24' toxic double lane waterslide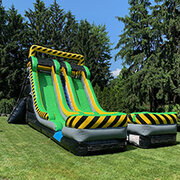 25' Nascar Waterslide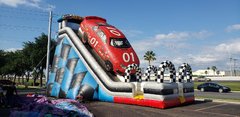 25' Titanic Adventure Waterslide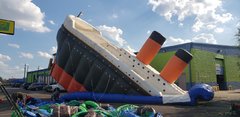 26' Double Lane Slip n Slide Combo Waterslide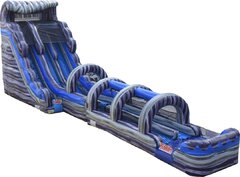 26' Niagra Falls Waterslide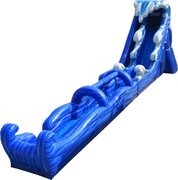 28ft Kraken Dual Waterslide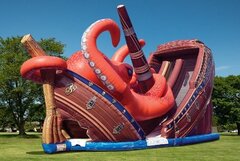 30' Colorful Slip & Slide (no pool)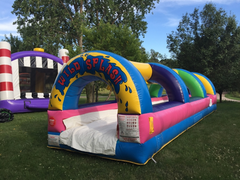 35' Alpine Tubing Slide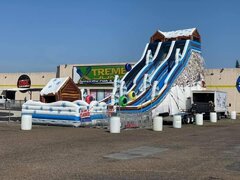 36' Tall Orange Crush Waterslide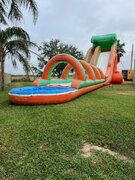 45' double lane slip n slide combo waterslide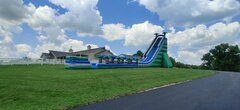 45' Tropical Wet/Dry Obstacle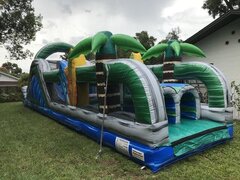 4ft Beach Volleyball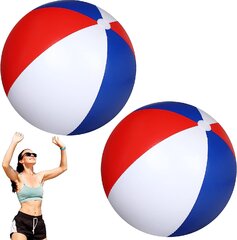 50' 4 Lane Waterslide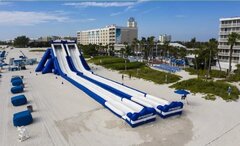 America Screamer Waterslide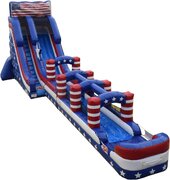 Double Lane Tropical Combo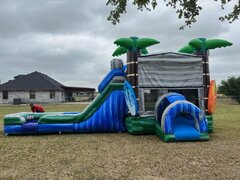 Dunk Booth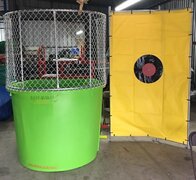 El Chapo Waterslide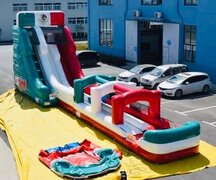 Fairy Tale Combo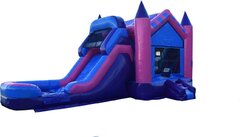 Foam Party Arena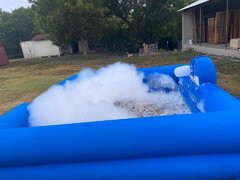 MAGA Waterslide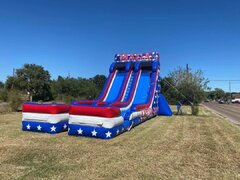 Mermaid Obstacle Wet / Dry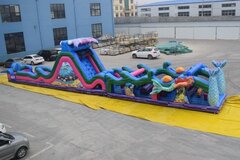 Pink Water Slide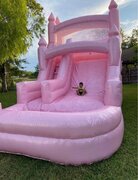 Pirate Combo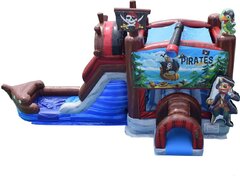 Shark 21' Double Lane Curve Waterslide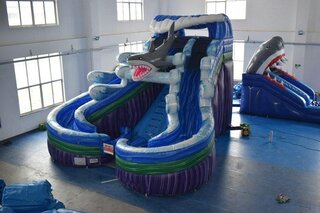 Tiki Bar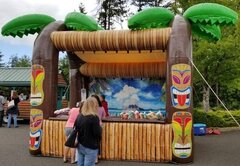 Volleyball Pool Water Volleyball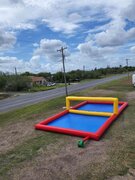 Water War Games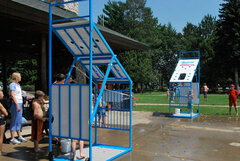 Wet/Dry 95' Tropical Obstacle Course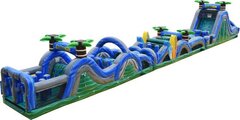 We Have Both Water Slide and Dry Slide Rentals in McAllen TX
At RGV Party Rental, we don't just have water slides for rent, but also a pretty good selection of dry slides. However, we have a bunch of options in the way of the type of water slide you will want to rent for your next event in McAllen, Texas, or any of the nearby areas. You can choose from our single lane and dual lane options, so everyone has twice the fun at your party. If you also have older kids, our dual lane big wet slides should help keep them entertained for a long time. In fact, our two-lane slides are amongst the most popular because it allows kids to race each other down to the pool. So, you can be assured that the kids are going to be busy for hours!

RGV Party Rental is headquartered in McAllen, TX. In addition to water slides of all types and sizes, we also have some unique smaller options for toddlers. Our water moon jumps also referred to as moon bounce water slide combos, are among the most popular options. The slides feature large basketball goals, in addition to various other features, as well as a waterslide offering an all-in-one inflatable option perfect for church and school events.

Younger kids enjoy our moon bounce water slides because it is a comfortable small size for them. Furthermore, their small size makes them the perfect option for birthday parties and a family get-together in the backyard. Add few interactive inflatables and perhaps a concession along with a water slide, and you have yourself one heck of a party or event!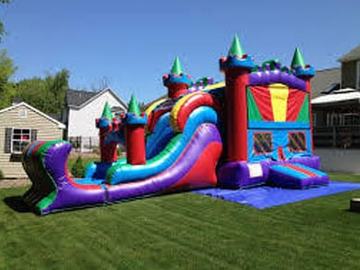 Why Choose RGV Party Rental
We have the largest selection of water slides for rent in McAllen, Texas, and all surrounding areas within the Rio Grande Valley vicinity. Our service is fully insured and licensed to provide water slide rentals and moon jumps in RGV. Over the years we've earned a reputation for providing a top-quality service that caters to the needs of our clients, not to mention a growing number of 5-star reviews which speaks volumes for our reputation.
We make an active effect to ensure that every inflatable is professionally cleaned and then sanitized before being delivered to your home or the venue of the party. Our delivery crew will arrive ahead of time to make sure that the water slide, in addition to all other items you hire, is set up and ready for you.
At RGV Party Rental, we assure our clients of the best possible customer service by providing everything from timely advice to helping them after the service is delivered. Furthermore, we are here to answer any question you might have about our services.
We can also help you book a water slide(s) of your choice if you are having a problem booking it online. Furthermore, our team can help you choose the right inflatables based on your budget and the type of party you are planning. If anything, we've made hiring water slide rentals near me very quick and simple, in addition to affordable.
We also have a great selection of water slide rentals in Brownsville and other areas.
How to Book Our Water Slides and Moon Jumps?
As mentioned above, we've made booking water slides, a combo, and various other rentals very easy. Once you find what fits your needs the best or the theme of your party, the next step is to book it. All you have to do is follow the steps below:



Choose the water slide you want




Then click 'add to cart'




Fill out the short form with information about the event




Go and process your payment




Sign the rental agreement (digital signature will do)



At this point, you are all done! We will send you a confirmation email. Then a pre-party reminder a day or so before the party. However, if you have any questions, feel free to reach out to us over the phone or via email. Our team in McAllen, TX, will be more than happy to help you. You're welcome to call us at any time during regular business hours and days.