FOOTBALL CHALLENGE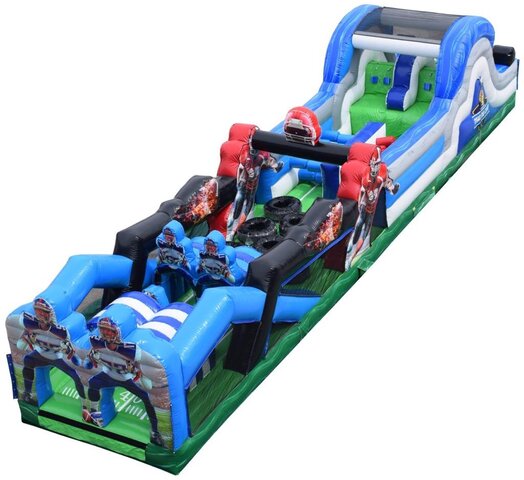 Actual Size: 60'L x 12'W x 14H
Description
Calling all athletes...
Football Training Camp is NOW OPEN.
Are you TOUGH ENOUGH to make the cut? Do you have what it takes to reach the next level?
This new two-piece obstacle course will push you to your limit as you battle your way thru the brutal training stations as you strive to reach the end zone...
Obstacle 1: start by firing out of your 3-point football stance as you dart under the opponents legs and crawl quickly thru the training tunnel to tackle your first opponent. Knock him aside and fire under the next tunnel to the tire steps.
Make quick time thru these tires..., because you are going to need speed to make it thru the running back gauntlet inorder to make it to the leap wall and slide out to complete your first challenge.
Quickly gather yourself and prepare to JUMP into action as you enter Obstacle 2: after your LEAP over the linemen in front of you, you must quickly bear crawl thru the zig zag tunnel and fight your way thru the tacklers that you will encounter at the end of the tunnel...
Once you are successfully thru this line of tacklers, squeeze thru the barrier tubes and prepare your self to Lambeau LEAP your way into the end zone and slide out a winner!
TOUCHDOWN!